The Influence of Intellectual Transformations in Romantic Art
Keywords:
effect, transformations, intellectual, environment, romantic art
Abstract
       The present research includes the influence of intellectual transformations in romantic art. The transformation of intellectual into the visual achievement of romantic art and the role of these transformations in directing the mechanisms of work in the drawings and works of romantic art, and this research consists of four chapters, which includes the first chapter identify the problem of research, which is clear through the following questions, which are real problems that require study Is there an impact of intellectual transformations and The romantic artist dealt with the effect of his artistic works. How effective are the transformations, factors and foundations that affect the structure of the romantic painting? The present research aims to identify the effect of intellectual transformations in romantic art. The limits of research included in the first chapter were limited to the study of the drawings of the Romantic artists for works performed in France for the period 1795-1840. The second chapter included the theoretical framework, , Reviewed the first topic: theories, theories and factors that influenced the art and studied the editing of art and artist. Artistic criticism and its effective role in changing the concepts of the Romantic school. The philosophical and literary opinions and their effective role in changing the course of art. The second chapter deals with the factors and foundations that influence the romantic drawing. The theoretical frame was concluded by discussing and extracting the indicators from it to be used in the analysis of the sample. The third chapter included the procedures related to the research society and the sample and methodology of the research. And conclusions as well as recommendations and proposals, and the most prominent results reached by the two researchers: 1 - the destination of the romantic artist with a personal character and special style distinctive 2. - Romance depends on the superiority of the imagination on the reality scenes Fantasia 3. - pain and fear and fatigue in drawing 4. Man impressions indicate the weight of the imaginary speech at the expense of the real, self-packed ideas and impressions in order to remove the visual blockage to reveal the representations of the invisible. 4. Self-impressions are evident as in all models of the sample. The most important conclusions: 1. Romantic art is predominantly spiritual, Revealing the soul in its internal struggles and struggles and pains. And depicts the conflict, pain and torment and reveals to us the horrific aspect of our lives. 2. Romanticism represented feelings, human imagination and self-power. It overcame passion for thought, ambiguity over logic, and passion for reservation and freedom over laws.
Downloads
Download data is not yet available.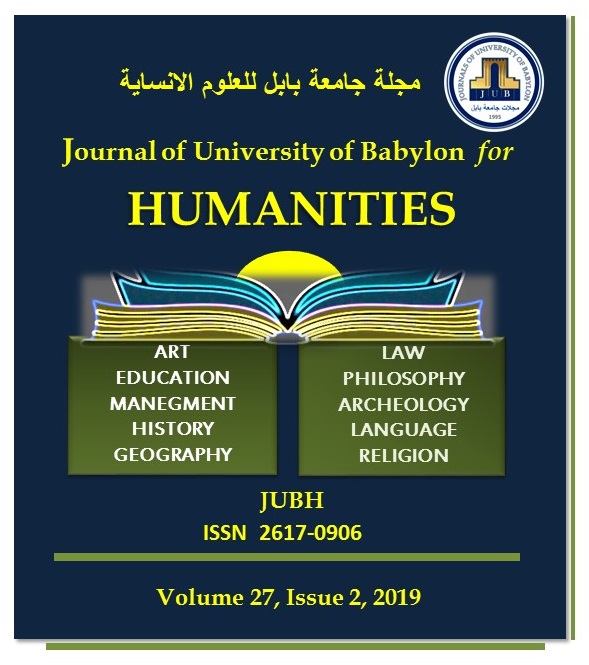 How to Cite
[1]
E. K. A. Marouf and Z. R. Al Obeidi, "The Influence of Intellectual Transformations in Romantic Art", JUBH, vol. 27, no. 2, pp. 114 - 135, Apr. 2019.