Choice Manifestations in Paintings of Adolescent Girls
Keywords:
Coloring, altruism, ethics
Abstract
This paper tackles the topic of "Altruism Manifestations in Paintings of Adolescent Girls". It explores theories that explain altruism manifestation and aspects of altruism in the Holy Quran and Prophet Traditions by reviewing many verses of Quran and prophetic traditions. It also reviews positive moral values, the basis component of the Iraqi family and institutional social existence that reflect society culture and behavior principles.
The paper includes for chapters. The first chapter deals with the framework of research methodology represented by the problem of the research, which is limited with the following questions: "What are altruism manifestations in adolescent girls?"
The first chapter also includes importance of the research and its aim represented by 'exploring altruism manifestations in adolescent girls'. The research is limited to examining altruism manifestations in fourth class secondary school girls who are 16 years old during the academic year 2017 – 2018 in different secondary and preparatory schools in Hillah, capital of Babil Province.
The second chapter includes three main topics representing the theoretical framework. The first topic deals with the concept of altruism. It reviews altruism in Islam, theories explaining altruism, and social and psychological concepts related to altruism. The second topic tackles the concept of adolescence including and introduction about adolescence and its stages and its features during the middle stages of adolescence. The third topic dealt 'adolescent paintings' as a means for intellectual and psychological expression of adolescent girls.
Chapter three tackles the research procedure including sample and population of the research and research approach. The researcher used two tools in this research: the first tool is the altruism behavior measure (Measure of Kawa Mohammed Ali- after making a survey and applying it on the experiment and control samples); the second tool is an adolescent paintings analysis tool.
Chapter four includes research results and analysis, conclusions, suggestions and suggestions.
One of the main results of the research is that there are distinguished altruism manifestations in adolescent paintings including type of lines such as straight and curved lines, line boldness, shapes details, saturated colors, accurate shape coloring, and variety of coloring, changing of color- natural and unnatural.
The research ends in recommendations and suggestions.
Downloads
Download data is not yet available.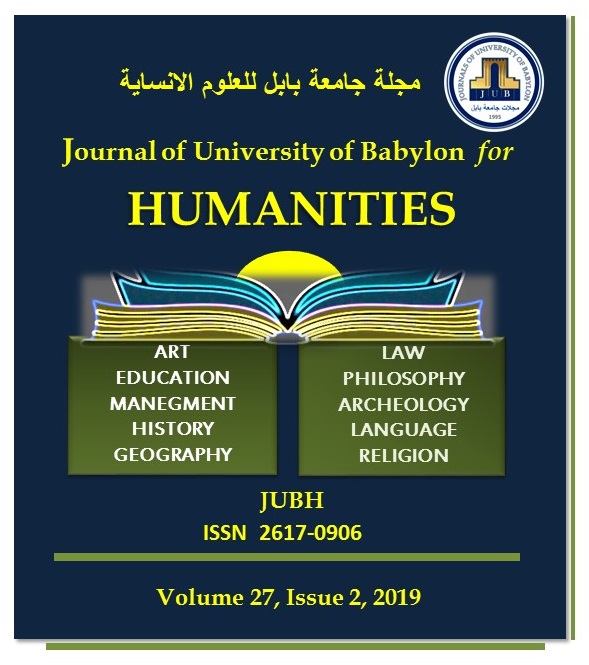 How to Cite
[1]
G. J. Kadhum and I. H. Ali, "Choice Manifestations in Paintings of Adolescent Girls", JUBH, vol. 27, no. 2, pp. 152 - 169, Apr. 2019.