Terrorism and its Representation in Visual Art Contemporary Iraq
Zainab Rihda Hamodylect

College of Fine Arts/University of Babylon
Keywords:
Terrorism, visual art, Iraqi Art.
Abstract
this research Concerns with (Terrorism and its representation in visual art contemporary Iraq), which is located in four chapters, the first chapter is devoted to (the statement of the research problem, its importance and the need for it, its goal, its borders، and to determine the terms contained in the title and definition). The third chapter singled out procedures, which included research (research community of 114 works of art is visible، and the research sample the (6) Iraqi contemporary works, then search tool، and statistical methods، and analysis of the sample). And ensure that the fourth quarter results, and conclusions، and recommendations، and proposals, Among the findings of the researcher are:
contribute to Iraqi contemporary artists played a major role in spreading awareness of the risks of terrorist, and the fight against forms lining for international terrorism، the government, and the terror organizations, it was the artists role in creating a mind to build a new society towards independence and freedom from this vicious attack which Ost in the land of corruption, as All models in the sample.
Downloads
Download data is not yet available.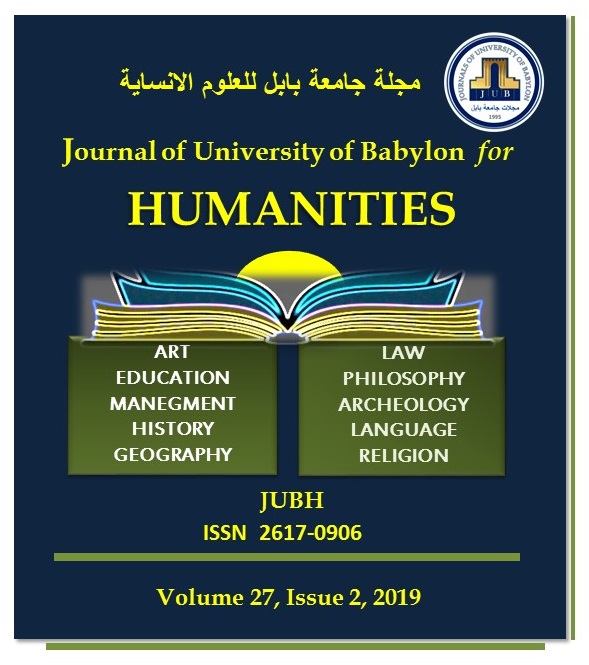 How to Cite
[1]
Z. R. Hamodylect, "Terrorism and its Representation in Visual Art Contemporary Iraq ", JUBH, vol. 27, no. 2, pp. 170 -201, Jun. 2019.