The Collage and its Applications in Scenography the Iraqi Theatrical Display
Mohammed Abbas Hantoosh

College of Fine Arts/ University of Babylon

Maryam Osamah Abed Mahmoud

College of Fine Arts/ University of Babylon
Keywords:
Collage, Sinography, Theatrical
Abstract
The aim of research to the study of (the collage and its applications in scenography the Iraqi theatrical display). The collage of aesthetic possibilities in the design of the scenography theatrical presentation, in addition to the intellectual transmission in unconventional ways, stimulates the recipient to contribute to the theatrical performance by producing the meaning or participation directly interacting with the collage. Towards his interpretive possibilities and trying to monitor his formative structure in order to reach his concept given through the method of scenography theatrical presentation.
The research consists of four chapters. The first chapter deals with the problem and importance of research and its need, in addition to the goal and limits of research and the definition of terminology. The aim of the research was to define the collage and its applications in the scenography play of the Iraqi theater.
The second chapter consists of two topics: the first is the concept of collage, in which the concepts of collage were discussed, in addition to some of the experiences of contemporary directors such as Chiena, Chung, and Luccont. The second was titled "Elements of the Synography in the Dramatic Performance" From the knowledge and nature of the employment of theatrical space, and then concluded the second chapter of the previous studies and indicators that resulted from the theoretical framework.
While the third chapter was the identification of the research community and the eye and the research tool and then select the research methodology after the analysis of the research samples, which were selected in a way that is tentative, AND  The two Samples are a play (reprimand) by Anas Abdul Samad in 2013, and the play "Red Carpet" by director Jabbar Judy in 2015.
The fourth chapter has been extracted the results of the research, including:
The two samples (1, 2) combined the very different visual and audible elements by employing overlapping structures of life scenes encoded at the level of different events and actions in the theater areas, with the reinforcement of an interlocking audio producer, which achieved the application of collage in the scenography of the play.
Formal complexity achieved a clear application presence in the two samples (1, 2) through the two displays of complex configurations, both visual and acoustic, as well as overlapping clusters of machines, devices, bodies and optical spots, which created complex and mysterious relationships despite their spatial convergence and formality As well as the use of the accumulation of bodies and silence and silence as a means to increase the complexity of the theater performances, which promoted the application of collage in the scenography of the play.
The research concluded with conclusions, recommendations, proposals, sources and annexes.
Downloads
Download data is not yet available.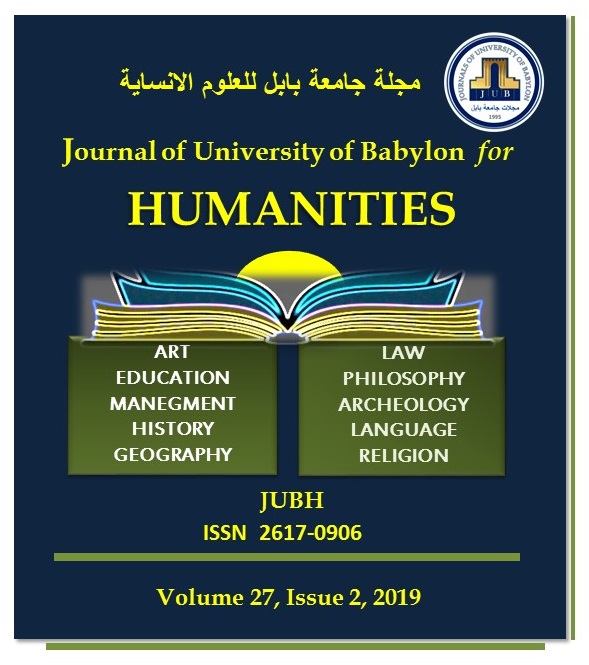 How to Cite
[1]
M. A. Hantoosh and M. O. A. Mahmoud, "The Collage and its Applications in Scenography the Iraqi Theatrical Display", JUBH, vol. 27, no. 2, pp. 239 - 258, Jun. 2019.