Spatial Model of the Emission of Intersections in The City of Diwanyah Using Programs of Aermod View And Sidra Intersection (A Study in the Geography of the Envoronment)
Abdul Reda Matar Abdul Reda

University of Al-Qadisiyah\ Collage ofArts

Ibrahim Naji As Shabany

University of Al-Qadisiyah\ Collage of Education
Keywords:
Spatial Modeling, Emissions, Intersections
Abstract
The study area is the city of Al-Diwaniyah, the center of the province of Al-Diwaniyah, and this made it an important node of the main transport routes, most of which pass through the city. The city has a total area of ​​4711 hectares and includes five sectors with 61 residential neighborhoods.
The study aims to detect the spatial variation of concentrations of air pollutants of carbon monoxide, carbon monoxide, hydrocarbons and nitrogen oxides from burning fossil fuels through the use of dispersion and dispersion models for vehicle emissions at intersections. The Sidra Intersection v5 software is used to calculate the quantities of fuel consumed and the resulting emissions , Aermod View v8 is also is used to model vehicle emissions taking in to consideration the modeling time is the morning rush hour 7.5-8.5 AM, during which the monitoring of the numbers and types of vehicles in 16  main intersection of the field study in July of 2017.The methodology of the study is based on the analytical descriptive method. The methods of automated analysis are also used in GIS.
The study reveals the difference in the quantities of fuel consumption and the quantities of pollutants emitted at the intersectionswhere the highest amounts of fuel consumption are in some of the intersections surrounding the central area of ​​the city, and the direction of the movement of emissions by the wind in July are two main axes, the first towards the south-east and the second to the north-west. Nitrogen oxides cover more space than compared with other pollutants. The distance from the source of emission, shows that the higher concentration levels are usually closer to the source of emission and close distances.
Downloads
Download data is not yet available.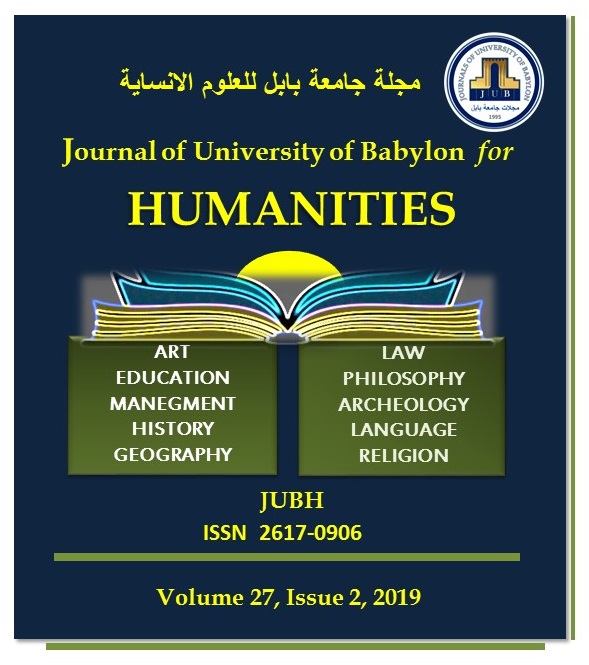 How to Cite
[1]
A. R. M. A. Reda and I. N. A. Shabany, "Spatial Model of the Emission of Intersections in The City of Diwanyah Using Programs of Aermod View And Sidra Intersection (A Study in the Geography of the Envoronment)", JUBH, vol. 27, no. 2, pp. 239 - 258, Jul. 2019.