The Unseen Patterns of Kazem Noir's Drawings from the Cultural Criticism Perspective
Nadia Ayub Essa

Department of Artistic Education/ College of Fine arts \ University of Babylon

Tswahin Taklif Majid Majid

Department of Artistic Education/ College of Fine arts \ University of Babylon
Keywords:
: cultural criticism, the subconscious, social environment
Abstract
This research is concerned with studying (the unseen patterns in the art work of the artist Kadhem Nwayer from the perspective of cultural criticism) and it lays in four chapters. the first chapter was assigned to show the problems with the research, its importance, the need to it, its goals, limits and highlighting the most important terms that been used in it.
The problem of the research included the unseen patterns in the art work of the artist KADHIM NWAYER and that was from the perspective of the cultural criticism as a way to discover these patterns which is hidden behind what is clear for audience , and from here the problem was raised to answer the following :
-does the art work of the artist kadhim nwayer includes unseen patterns ?
The importance of the research was raised to find out if the art work of kadhim nwayer did include unseen patterns from the viewpoint and perspective of the cultural criticism.
The second chapter included the theoretical frame which has three units , the first unit dealt with the sources of the cultural criticism, the second unit included the idea of the unseen patterns were the third unit had to deal with the study of the variation in the unseen patterns of the Iraqi drawing.
The third chapter was assigned to study the procedures of the research, were the research society with all its available ideals , resources , books , magazines , the internet and what has been collect from the artist him self.
For the research there were three art works for the artist kadhim nwayer were chosen.
The chosen research way were the discribtional anlytical way, were the researcher depended with way of research on the theoretical frame in analysis  of the research sample and at the end on the samples analysis.
The fourth chapter had the results and the research conclusion along with the unseen patterns in the art work of the artist and showing the different cases of the unseen patterns and its variations, along with the conclusions that showed us the effect of the variation in the local and social environment on the formation of the unseen patterns in the unconsciousness   that describes the unseen events in the Iraqi community which reflects the active presence in the art experiments of the artist Kadhim Nwayer.
Downloads
Download data is not yet available.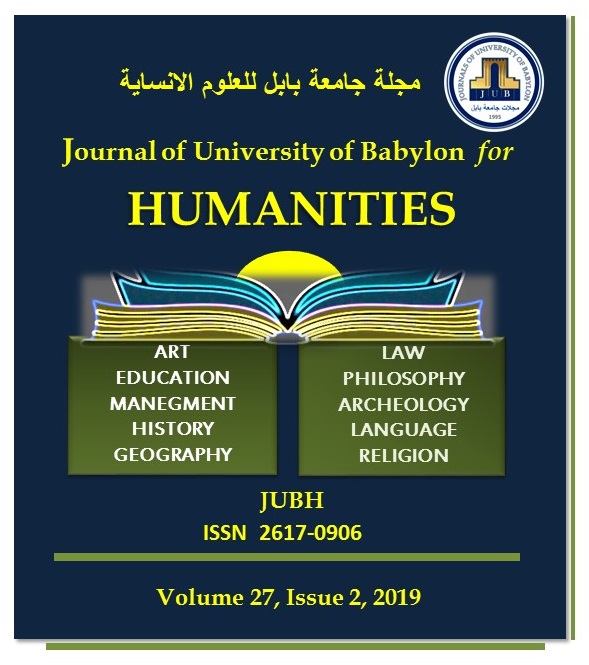 How to Cite
[1]
N. A. Essa and T. T. M. Majid, "The Unseen Patterns of Kazem Noir's Drawings from the Cultural Criticism Perspective", JUBH, vol. 27, no. 2, pp. 274 - 298, Jul. 2019.