Features of Tourist Movement in Hashemia District
Abdul Zahra A. Al Jenaby

College of Education For Human Sciences /University of Babylon

Ahmed M. Shafey

College of Education For Human Sciences /University of Babylon
Keywords:
Tourist, Tourist Movement, Hashemia District
Abstract
Tourism is one of the most important economic activities which has witnessed a great development in recent times, because it is one of the pillars of comprehensive economic development. As the area of ​​study is active in the tourism movement resulting from the passage of visitors from the southern provinces to visit the holy shrines in Karbala and Najaf where tourists and visitors visit shrines, religious sites, some recreational sites, and other places in the region. Repeating  visitsthe study area will be known spicily that it embraces many religious shrines, archaeological sites and natural sites that encourage tourism. The field study showed that 87% of the population of the region is for the purpose of religious tourism, and 34% came from parts of the other province of Babylon, and the proportion of females is 80%. It was also found that 64% of visitors come to the area with their families. Thus, the study area is witnessing a remarkable tourist movement, and it is important to develop it to have a bigger role in their economies..
 It is also to give the archaeological areas more attention, developing, provide it with comfort sites, publishing tourist index, give antiquities sites more attention and encourage tourism  trips toward them, as well as the promotion of traditional industries , make them accessible to tourists and visitors for their media role and economic importance.
Downloads
Download data is not yet available.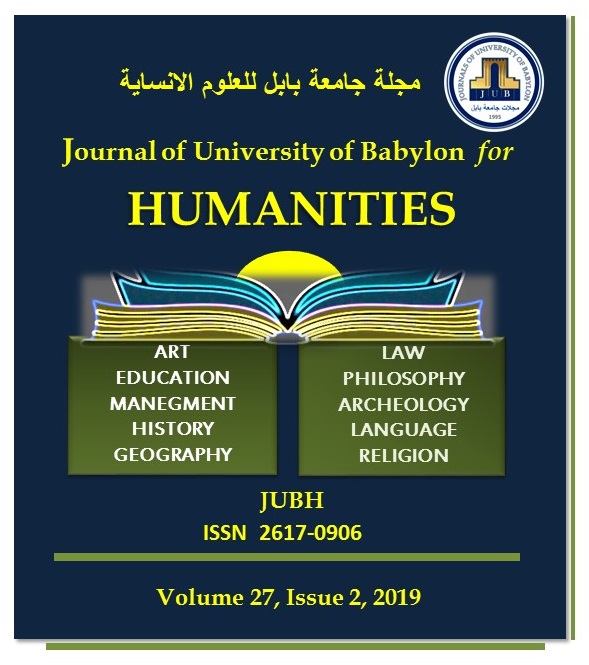 How to Cite
[1]
A. Z. A. Al Jenaby and A. M. Shafey, "Features of Tourist Movement in Hashemia District", JUBH, vol. 27, no. 2, pp. 299 - 323, Jul. 2019.